Have you ever counted how many times a day you go through the kitchen area? Thanks to gravity, anything that swirls in the air or over our furniture as time goes by ends up on the floor to be whirled up again when we go past, and the whole thing starts all over again. All this would not be so bad if chemical residues, fine dust, mites, mould spores from flower pots, pollen and many other things that make us sick were not constantly entering our airways unhindered.
As you might already have guessed: conventional wiping with lukewarm water from a bucket, mixed with cleaning agents, a germ-soaked mop that spreads bacteria wonderfully in the smallest corners of the room is not even the second-best option for cleaning in our eyes. Do not do it like your great-grandmother did 100 years ago; modernise things and clean hygienically with pure tap water and heat – your Thermostar does this: no toxic wastewater, no germs, no residues and much less discomfort for your respiratory tract or skin!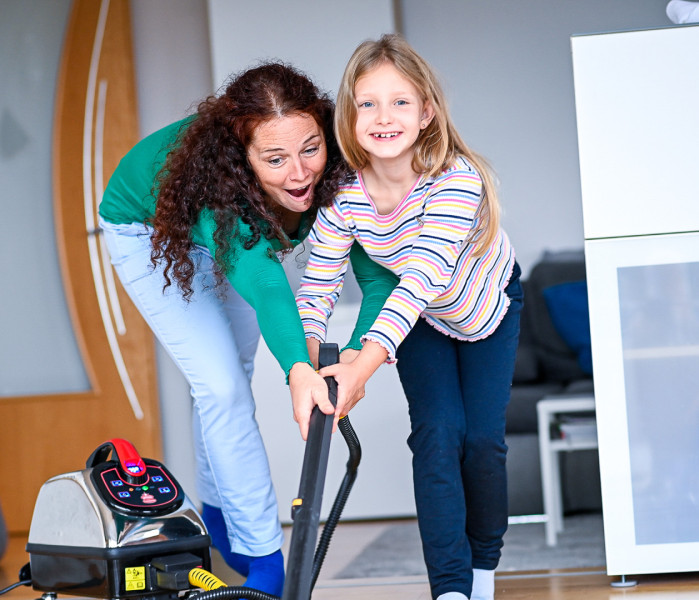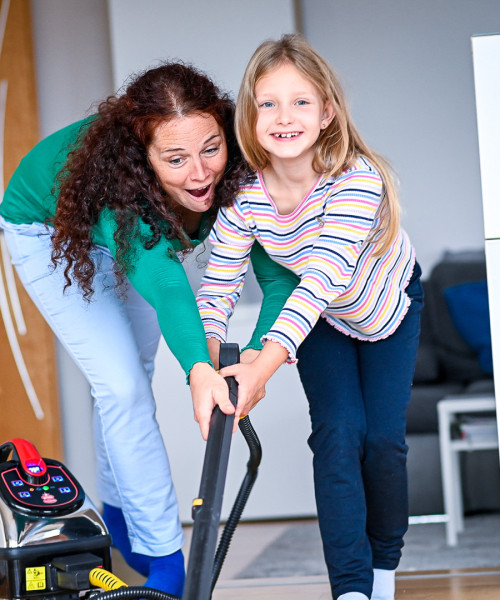 Cleaning floors as easy as pie
While conventional cleaning with chemicals requires a different cleaning agent for each type of floor, it is really easy with the Thermostar device: fill in tap water, start the Thermostar device, wait about 3 minutes and then clean the surface hygienically deep down with dry stream at up to 150 degrees. Thanks to the practical extensions, you can optimally adjust your working height. You use less than 2 litres of water for the whole home; toxic wastewater and expensive cleaning agents are a thing of the past.
You can achieve the best result if you remove coarse dirt from the floor with a conventional vacuum cleaner beforehand. Depending on what you prefer, you can use the mop attachment for wiping, or the rectangular brush and a microfibre cloth for cleaning. As is so often the case with your Thermostar device, both will help you with what you want to achieve. However, we recommend that you do not press the steam button permanently, but work with bursts of steam blasts. You use less water and your floors will thank you for it!
Download our APP now, and you will always have the best tips and tricks for cleaning with your Thermostar device at your fingertips!
Tips from the Thermostar expert
Top to bottom

If you live in a home with many smooth surfaces, maybe even in a city and often have to let air in, because the house is densely built and your home does not "breathe", then you are used to dust, but you can do something about it. When cleaning, it is especially important to do it in the right order. Always start at the top, dust the higher surfaces first; you can also clean your curtains and the air with the steam lance. Simply steam into the air, the dust in the air becomes moist and falls to the ground. At the very end, wipe the floor with the rectangular brush and you will see the development of dust decreasing significantly.

The right extension

We have made it our goal to make cleaning as easy as possible for you. The standard equipment of your Thermostar device includes 2 extensions that ergonomically facilitate work for you overhead but also on the ground. However, if you are taller than average height, we recommend an additional short or normal extension, because then you will never have to bend down that much again when cleaning! For higher places, you no longer need a ladder, which reduces the risk of accidents!

Stains on carpets

If you have discovered a stubborn stain on your carpet, it is definitely worth working on it from a very short distance with the steam lance. Due to the high pressure of the steam jet, the dirt loosens from the carpet surface and can be easily removed with a microfibre cloth. To do this, do not rub the dirt back into the fabric, but try to pull it out of the tissue with rotating movements. Finally, as usual, apply steam to the carpet with the rectangular brush and a microfibre cloth and let it dry for a short time.