Hygiene must come first in the kitchen
As much as we enjoy cooking and baking, the more annoying it is to make everything shine again. Hygiene, cleanliness and order are of paramount importance in the kitchen! But how do we best remove spatters of grease, fumes from pans or pots or burnt-in food residues? Sensitive materials are often used in modern and bright kitchens.
So if you want neither toxic chemical residues from aggressive cleaning agents in your food, nor unsightly scratches because of powerful scrubbing, you have to come up with a good alternative! The Thermostar device's extremely dry steam and high pressure offer just that! You will be amazed at the ease with which your kitchen is hygienically cleaned and shiny again in no time at all.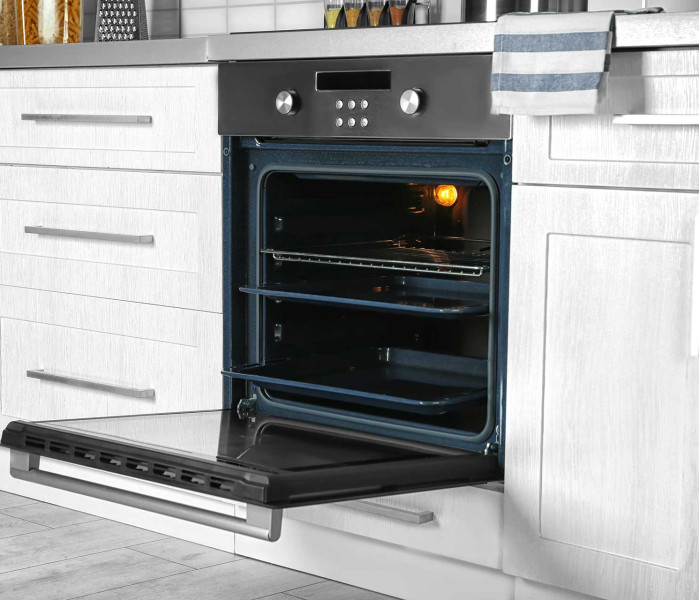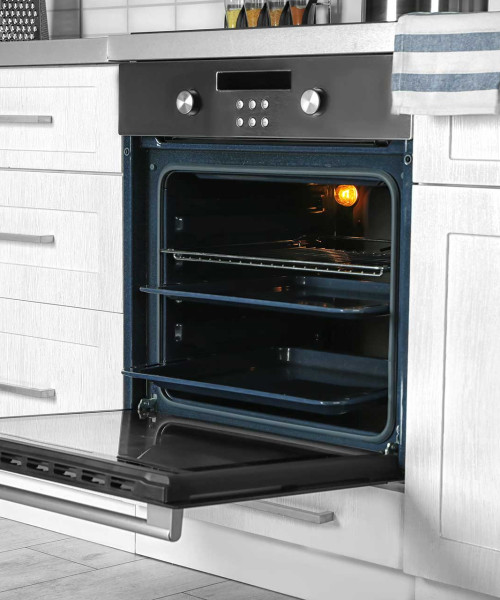 Cleaning the oven
We are all familiar with the oven cleaners offered in shops. What seems simple and effective at first sight often turns out to be a bad buy. The toxic foam often poorly removes baked-on stains, and you still notice the chemical vapours after days, even after tedious wiping afterwards!
The Thermostar dry steam cleaner can also help with this. The hot water steam removes every baked-on stain in your oven. Use the round nylon brush with the stainless steel wool for this. Even baked-on grease and crust on the bottom, side and rear wall can be easily removed with water alone. To do this, move the brush up and down slowly, but with only a little pressure on the target area, until the stain has been removed due to the high temperatures of the dry steam cleaner. Then wipe off the loosened dirt with a dry microfibre cloth.
Cleaning the fume extractor
The surfaces of a fume extractor hood mainly consist of stainless steel or aluminium and therefore have to be maintained in a specific way. It is important to avoid using pointed objects or the hard side of a sponge. In particular, cleaning with chemical agents or well-known household remedies is sometimes time-consuming and strenuous. In addition, these agents can leave unsightly scratches on the surfaces.
With your Thermostar heat cleaner, you can quickly and efficiently remove dirt from the surfaces – without chemicals. For the extractor hood, use the triangular brush with a microfibre cloth. In this way, you can dissolve the fats in one step with steam and, at the same time, remove them with a soft cloth. If the surfaces are suitable for this, you can also clean the corners directly with a small nylon brush.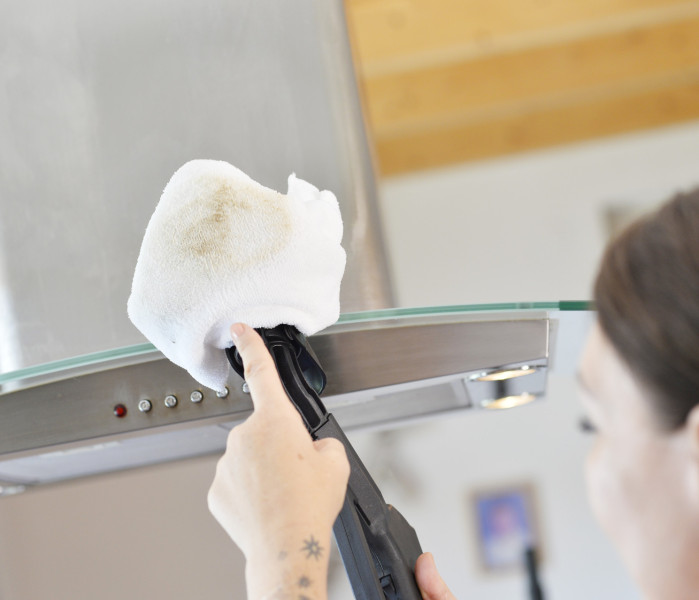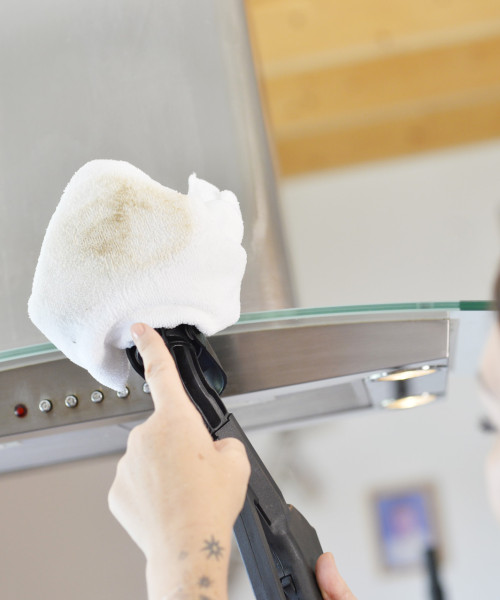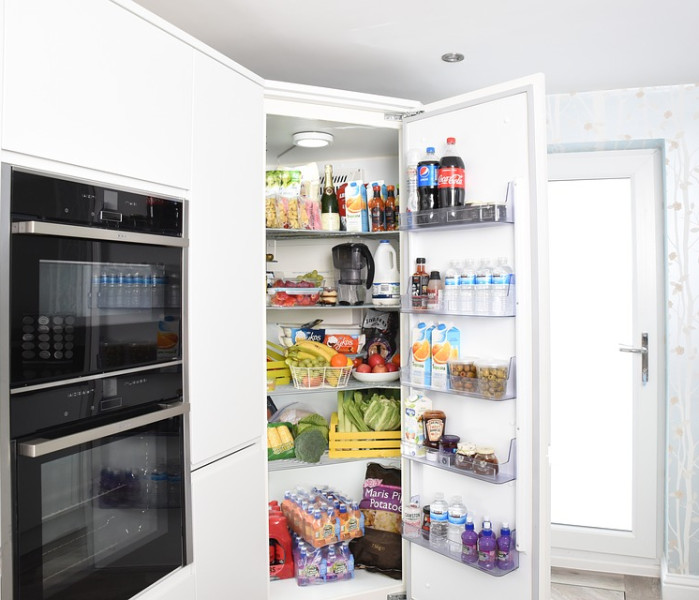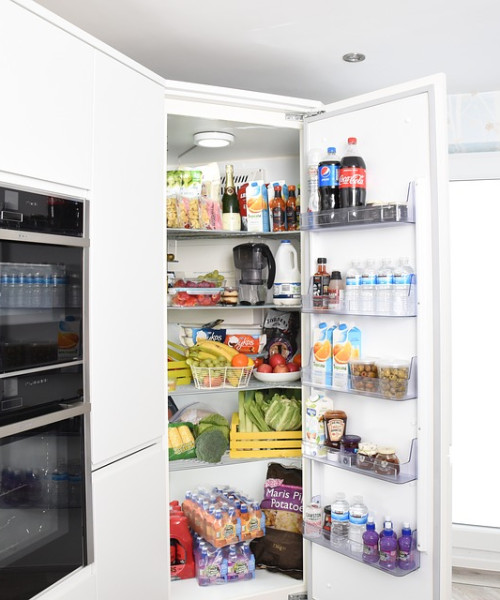 De-icing your fridge and freezer
De-icing and cleaning your fridge on a regular basis is not only important for a perfect food shelf life, it also saves energy costs and prevents expensive repairs of fridges. Because a thick layer of ice in the fridge will no longer allow it to work properly. Therefore: regular cleaning and de-icing!
With your Thermostar, this task is very easy and hassle-free! Simply clear out a compartment, then remove the residues and dirt with the steam lance, or if there is a layer of ice, with the steam spatula and wipe with a dry and clean microfibre cloth. Then repeat this procedure for the next compartment until the whole fridge is clean again. And if you then carry out a water-based disinfection with HB Solution and the blaster, your food will again stay fresh for a long time!
Download our APP now, and you will always have the best tips and tricks for cleaning with your Thermostar device at your fingertips!
Tips from the Thermostar expert
Brass wool

For some areas and surfaces, especially in the kitchen, stainless steel wool is too hard. For example, ceramic hobs can get unsightly scratches from it. With the extra soft brass wool from Thermostar, however, baked-on stains can be removed easily and safely. Simply attach the wool to a round nylon brush and carefully apply steam over the stubborn dirt.

Removing fat with the molecular cleaner

If your Thermostar's heat and pressure are no longer enough, it is time to use the molecular cleaner. Dissolve the powder in hot water and use it to spray greasy spots. The molecular cleaner dissolves organic contaminants (such as fats, oils, blood, and soot) and leaves radiant purity. Especially in the kitchen, this natural cleaning agent is a good addition to micro dry steam!

Cleaning with the steam lance

If you are cleaning joints or hard-to-reach areas with the steam lance, the following procedure has proven itself: hold a microfibre cloth about 10 cm in front of the nozzle. In this way, the removed dirt goes directly into the cloth and does not splash perhaps already cleaned surfaces. This saves you time, and you will be amazed at how much dirt you will find in the cloth afterwards.