One of the most unpopular forms of housework is probably cleaning windows. We always try not only to keep the windows sparkling clean, but especially to keep them free of streaks. There are tons of household tips for that, but most of them prove to be of little use.
The trick is: avoid cleaning products! The streaks on your windows do not come from sunlight or dirt, but from the residues of cleaning agents, which settle on the glass like a film. With Thermostar and the extremely hot water vapour that penetrates into the pores of the glass with high pressure and washes it clean, you will no longer have this problem. Once your windows have been thoroughly and intensively cleaned, nothing can take away your view so easily.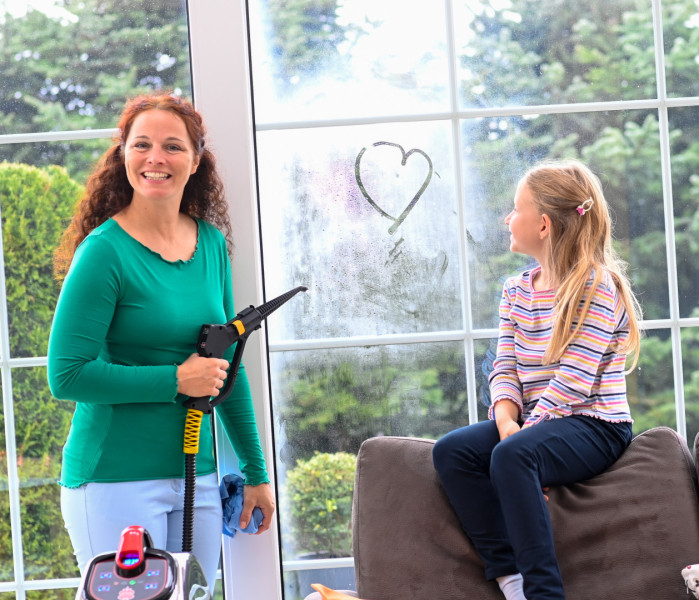 Many ways to success
If there is ONE thing that the Thermostar device is particularly good at, it is cleaning your windows! You can see this, among other things, in the many paths that lead us to success here: while some rely on cleaning with special window cleaning accessories, others favour basic cleaning with a triangular brush and a microfibre cloth attached to it. Large glass surfaces, as in an indoor garden, on the other hand, like being cleaned with the mop attachment.
No matter what type of basic cleaning you choose, the good news is: most of the time, the steam lance and a window cloth are enough to keep windows clean. Because once you get rid of the chemicals in the pores, the dirt that accumulates every day is removed very easily.
Be it raindrops, pollen, fine dust, children's hands, dog snouts or cat paws – no need to get nervous anymore! Simply apply steam and wipe with the window cloth!
Clean window frames
The window frame should also not be neglected when cleaning the window. Because just like the pane, it is exposed to all environmental influences. In particular, stubborn dirt can form in the joints and cracks. Please avoid using aggressive cleaning or even bleaching agents, as they attack the material and the seals and make the surfaces porous.
Window frames made of different materials have very different properties. Treated wood is beautiful, but needs to be cared for. Plastic windows, on the other hand, are relatively easy to care for, but turn yellow over time. And although aluminium is robust, it can easily get unwanted scratches if it is not cleaned correctly. Regular care and the right accessory permanently remove stubborn stains. The Thermostar device offers the right application for every material and only with the power of water.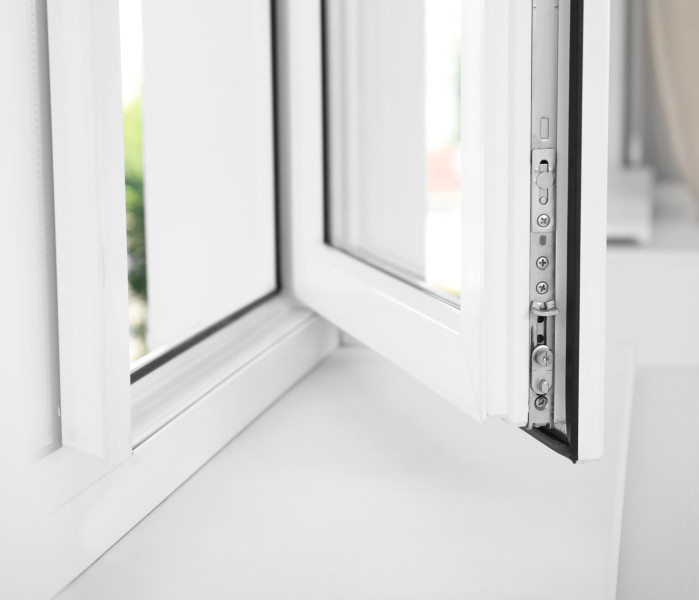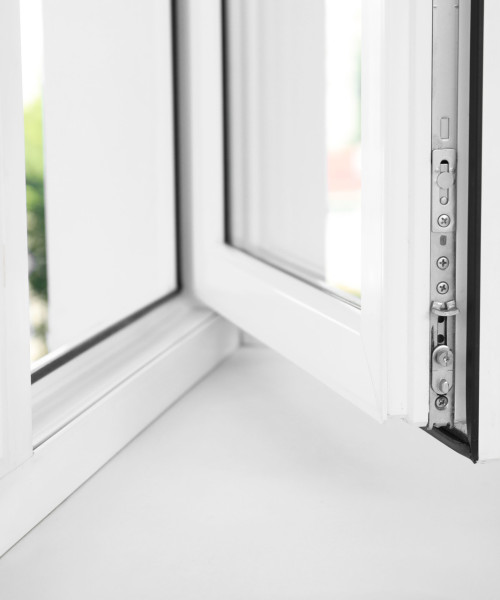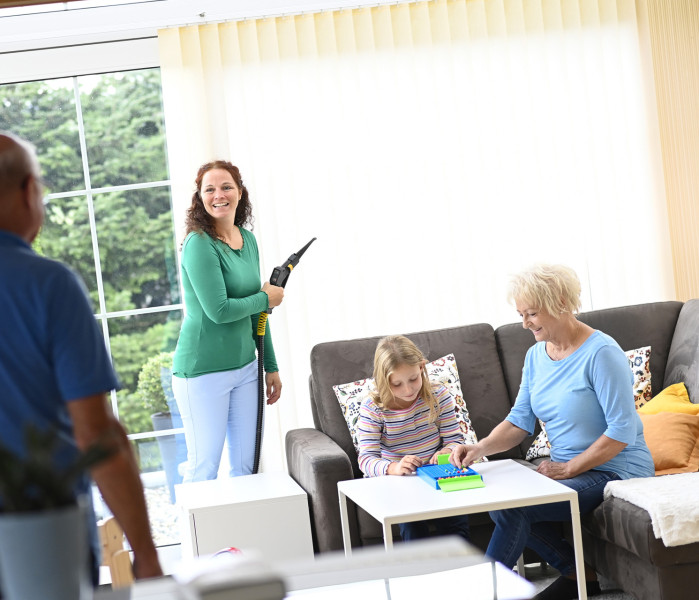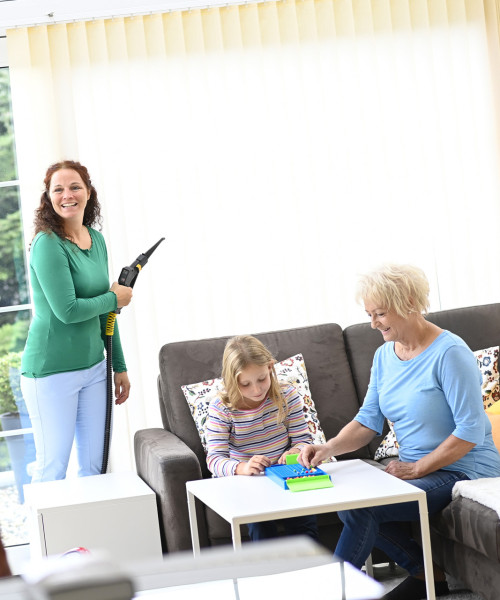 Insect and sun protection
Insect screens, blinds and window shades… We are glad to have them! But we are not always happy to have to clean them. Insect residues, often burned-in directly by strong sunlight, as well as other environmental influences and dust, make our shades look ugly. You won't get very far here with conventional cleaning utensils.
But you're lucky, because you have a Thermostar device! With the window open, simply blow through fly screens with the steam lance, or clean carefully and without pressure with the triangular brush and a microfibre cloth. Or use the small horsehair brush with long bristles to clean your window shades and blinds – with it, you loosen the dirt, wipe once with a microfibre cloth and the window shades look new again. For dusting and refreshing pleats and slats, simply apply steam with the steam lance from a short distance. You will be amazed at how fresh everything looks and smells again!
Download our APP now, and you will always have the best tips and tricks for cleaning with your Thermostar device at your fingertips!
Tips from the Thermostar expert
Microfibre cloths – only the best

You will soon realise that there is nothing that you cannot clean with the Thermostar device. But do not save in the wrong place: namely with the microfibre cloths! Only really high-quality microfibre cloths can handle the amount of dirt that your Thermostar device can remove from surfaces. The absorbency and grammage, the height of the loops and the composition of the fibres play an important role here! And for the real professionals among us: cloths in different colours or with integrated colour code systems for different cleaning areas not only make work easier but also achieve perfect hygiene.

Finishing with Pro Seal

Much is said about it, and in commercial cleaning, it has long been considered "state of the art": sealing surfaces is intended to ensure that soiling is reduced and the materials are protected from environmental influences. But be careful! There are countless products on the market that promise exactly that, but in practice, clog the pores of the surfaces, therefore damaging the materials. Our Pro Seal finishing product is made of pure silicon and – like liquid glass – protects all surfaces. Once applied after basic cleaning, Pro Seal lasts for many weeks and makes cleaning much easier!

Courage to superficiality

Those holding their new Thermostar device in their hands and taking their first steps into the new world of chemical-free cleaning after extensive training, fall into a trance-like state of cleaning fever. Decades of loathed activities suddenly become so much fun, you don't want to stop. It is advisable to be meticulous during the first basic cleaning with your Thermostar device, because, after all, you have to get rid of the horrible chemicals from the surfaces you used to clean with! Once this is done, you can take it easy! Plug in the Thermostar device, treat everything with the steam lance first, wipe briefly and you're done! All clean, all good!